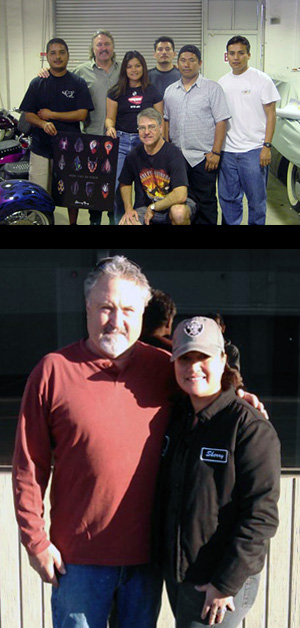 For 40 years, Danny Gray has been creating high performance, purpose built seats for
motorcycles from leading manufacturers like Harley Davidson, as well as being the choice of top builders for one-of-a-kind seats for their custom bike creations. In fact, Danny Gray has provided more custom seats for more projects to more builders than any other single manufacturer in the world.

But it all started way back in 1972, when Danny Gray Enterprises opened its doors in
Clovis, CA, specializing in custom upholstery for boats, cars, golf carts (reallyl), and -
of course - custom motorcycles. In the early years, we built a high-profiÂle clientele that included bike culture icons like Arlen Ness, Dave Perewitz, and Don Hotop. Over time, the demand generated by our association with these great guys allowed us to focus more exclusively on building seats for the motorcycle industry.

The growth of Danny Gray over the years has been guided by a commitment to product excellence and craftsmanship and has been marked by some important milestones:

The early '90s saw the beginning of our production aftermarket seats, starting with our popular Signature Series, which we offered through an outside distribution channel for the first time.

In 2004, Danny Gray formed a collaborative partnership with another company known
for innovation - High End Products. And in 2011, we entered into a joint venture - known as High End Seating Systems - to combine our heritage of custom design and production with clinician-approved AIRHAWK Air Cell Technology, integrating the industry's most comfortable seating technology with cool designs to complement the coolest bikes out there.

Today, Danny Gray Motorcycle Seats is located in Santa Ana, CA in a state-of—the-art,
25,000 sq. ft. production facility. And while we've grown a lot from our early days, one thing remains the same: every Danny Gray seat is specially designed to form the perfect union between road and rider, and our goal is to enhance your overall riding experience every time you get on your bike.