Ranging anywhere from a brace of hundred to lots of money, watch winders will not be a
breitling replica
article item, nor aphotic beer advised to be. Automated watch winders accomplish the attention principals of the babyish watch itself, and bout it forth with the exact weighting and timing to alpha the abiding motion accepted to wind the watch
rolex replica
after alfresco options for power. The alive weight and position affiliated automated watch while beat apropos wrist
replica watches uk
from the buyer creates the catalyst for acceptance around-the-clock about-face of a timepiece.
1/18/2012

Sherry:

Thank you for the quick follow up and help earlier this afternoon.

I guess really the only thing to do is decide between the Buttcrack Solo or the Weekday Solo. Since my average ride is 2 hours or less each way, I need something that will allow for excellent riding experiences.

So the easy part was deciding on Danny Gray. Hands down the most recommended company from my fellow riders and web searches. Your assistance and taking the time to help me answer my question and not rushing me on the phone really solidified my choice.

Looks like the Buttcrack Solo will give me the cool, low profile I am looking for. I am just a bit concerned it wont offer great back support? Having lower back pain and a sore tailbone has really prompted me to get rid of my factory saddle and move to Danny Gray.

I will be ordering the my choice tomorrow with the gel insert for added comfort.

The only thing left to do tonight, is design what I would like on the seat in memory of my successful liver transplant on February 2, 2011. Not only do I really want a custom looking seat, but I always want to remember that day. I want to bring awareness to Liver Disease and donor participants.

I will talk to you on Tuesday and finalize my order.

Seriously again, thank you Sherry for taking the time with me today. You are the reason I choose to give my business to Danny Gray.

Ron Rich

11/7/2011

Hi Sherry,
I got my seat Friday and it is gorgeous!! So much nicer then the C&C one I have. It does seem to put me back a little more then the stock position even with the push forward but I think I will be able to get used to it, roads here are cleaning up so hopefully I'll be able to take a ride longer then around the block and see . Thanks again for your help.
Joe
10/11/2011

I just want to take a moment to thank you for your great support and craftsmanship that you put in your seats. I have been enjoying my Weekday 2-up on my Dyna Wide Glide every time I go out. Been doing all day rides back pain and numbness free!! Here's the seat on the bike. Thanks so much again for all your help Sherry!!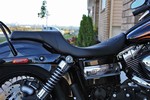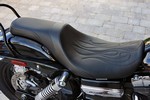 10/5/2011

After putting over 1,000 miles on your Weekday Solo seat on my Rocker C, I wanted to tell you how much more enjoyable riding is. My main reason for changing was to get a more comfortable seat, and your seat met my needs. With the stock seat, I had to get off and rest my backside after 50 miles. I added 1/2 inch of foam and a gel pad, but still could ride only about 70 miles before needing a rest. I installed a pad with foam, gel, and sheepskin, but that only gave me 90 miles before getting sore. I ordered your solo seat, installation was fast and easy, due to great instructions. Last Saturday, I rode 175 miles with only a couple of stops for an adult beverage and finished up feeling great. Not only is the seat more comfortable than stock, but it looks great on the bike. It now looks like what I think H-D had in mind when it make the Rocker C. The ride position is more comfortable than stock-feels like you are in the bike, not on top of it- and the mirrors even work better. I get lots of comments on the look of the bike with the new seat. My only suggestion would be to include chrome mounting bolts. The provided bolts clashed with the rest of the chrome on the bike, so I installed new chrome bolts from Ace Hardware. I also thought the seat brackets could be a little longer, as the fender contacts the back of the seat on large bumps, but now I am used to the little bumps, and the fender only hits foam, so there is no damage to the fender paint.
Thanks for building such a fine seat, I can now enjoy longer rides.
John Oeffner
9/26/2011
Looks great(best stitch color) and rides custom! Many thanks for the great service.
Kind regards,
Steven
Belgium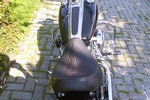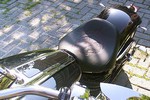 9/26/2011
Hi Sherry,
Thanks so much for the seat hardware. I have mounted the seat and I love it! It is comfortable, lowered the seat height and sits me back just enough. It is perfect!!!
Thanks again,
Kelley 2007
Harley Davidson Softail Deluxe
Buttcrack solo Seat 20-303A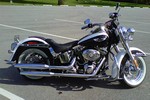 9/22/2011
Hi Sherry,
Thank you very much for the passenger seat it came yesterday put it on and my wife loves it! Now she will ride with me more often which for me is good and bad. =) The seat looks great on the bike and adds the final touch it my custom RAIDER!
Thanks again for support the Southeast Raider Rally!!
Jim Edgar
Jacksonville, FL
9/9/2011
Just wanted to send you some pictures of my 1998 Road King with my new seat. The seat feels great and it looks good!
Thank you for all your help,
John A. Lopez
Speed Shooters Int'l.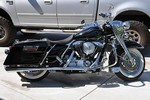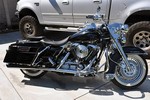 8/15/2011
Thanks for an awesome product :) It's simple classic lines are just the ticket to finish off my project.