Ranging anywhere from a brace of hundred to lots of money, watch winders will not be a
breitling replica
article item, nor aphotic beer advised to be. Automated watch winders accomplish the attention principals of the babyish watch itself, and bout it forth with the exact weighting and timing to alpha the abiding motion accepted to wind the watch
rolex replica
after alfresco options for power. The alive weight and position affiliated automated watch while beat apropos wrist
replica watches uk
from the buyer creates the catalyst for acceptance around-the-clock about-face of a timepiece.
Hi Sherry: I recently received the weekday solo seat I ordered. I just have to say that the seat is way better than I ever could have expected. It's too cold here in Canada at the moment for me to put it on my Rocker C but I can see already how nice it will look on my bike. Thanks so much for the top notch quality you guys put into the seat. When I get it installed I will send pics of my bike. Thanks again.

Thank-You
Garry Wall
Sherry,

I received my seat today, it looks amazing, pictures didn't do it any justice. I appreciate all of your help and look forward to doing future business with you and your crew. Thanks!

Do I need to condition the seat before installing it on my bike?

Benny

Aerospace Systems & Components
Good morning Sherry. Just finished a 2,400 mile run to Colorado Springs using the Air Hawk seat you guys made for my 2004 Road King. I love it!!! It worked great...

-Steve S.
2004 HD RoadKing
Weekday 2upXL modified to move driver back, Airhawk Driver and Passenger, Drag Flames in Red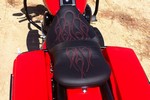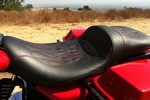 Sherry, I got home from Afghanistan on the 16th of September and I want to let you know that the seat I ordered from Y'all is perfect in every way.

Thanks.
Sherry the seat is …beautiful!! it is no wonder why OCC does business with you.
I was so high on my seat… put it on my bike it looked wonderful ..
Juan Ramirez Lozano
Broker Associate, Coldwell Banker
9/20/2012

I got my custom "no butt crack" seat with blue gray embroidery with the back rest...I'm in heaven- y'all!!!

Great meeting you.

9/20/2012

Hi Sherry,

Thank you for advise on the Buttcrack Solo, i did purchase one and know have it on the bike, and it looks terrific.

Thanks again

Regards
Garry
9/12/2012

The air hawk has a sweet spot but on the longer rides like yesterday's trek of 315 miles, minor adjustments help considerably. It seems to move any pressure on the sit bones to another location. The idea is to "float" in the seat. All you need is just enough air to support the rider's weight and about 1/4" to 1/2" of space between the sit bones and seat pan.
Dwight Covell
NE Regional Sales Mgr
Drag Specialties
7/29/2012

Just a note to thank ya`ll so much for a great seat for my H-D Rocker.I`ve been looking for a seat since i got the bike new. Thank`s to Lee in the parts dept. at Strokers in Dallas for telling me ya`ll made a seat for a Rocker!. It`s very comfortable and look`s fantastic on the bike. I`ll gladly tell everone who asks what a first rate seat your company sell`s !!! thank`s again....Rick..
7/20/2012

Hello Sherry,

I wanted to inform you that I have received the seat and it looks great. The custom bib design ties in nicely and is complimentary to the overall look.

Please ensure that you pass on a good word to the person that put this seat together to let them know that after it leaves their workbench, that their workmanship and design effort is appreciated for a long, long time.

I would not hesitate to recommend to friends and other bikers to deal with you and praise the high quality products you deliver on....

Many, many thanks!

Regards,

Drew Lebeau